Spike Chunsoft announced its fall 2023 sale is now live in the Nintendo eShop featuring many of the publisher's best Nintendo Switch games. For a limited time, Spike Chunsoft lets fans save big on Danganronpa, Steins;Gate, AI: The Somnium Files, and so much more during the eShop sale
Nintendo eShop customers can save on select Spike Chunsoft titles on sale such as Chaos;Head Noah, Chaos;Child, AI: The Somnium Files – nirvanA Initiative, Danganronpa S: Ultimate Summer Camp, Made in Abyss: Binary Star Falling into Darkness, Steins;Gate 0, and much more on the Nintendo Switch eShop. Final Weapon has reviewed some of these titles, so be sure to check out these awesome games.
Spike Chunsoft Major Nintendo eShop Sale
The latest Spike Chunsoft publisher sale is live from September 18 to October 8 in the Nintendo eShop, giving players two weeks to save on several Nintendo Switch games. The full list of featured Spike Chunsoft games being discounted during the eShop sale may be found below:
Danganronpa: Trigger Happy Havoc Anniversary Edition – 70% Off
Hope's Peak Academy is home to Japan's best and brightest high school students—the beacons of hope for the future. But that hope suddenly dies when Makoto Naegi and his classmates find themselves imprisoned in the school, cut off from the outside world and subject to the whims of a strange, murderous little bear named Monokuma. He pits the students against each other, promising freedom to anyone who can murder a fellow classmate and get away with it. It's up to you to find out who Monokuma really is, and why you've been taken from the world you once knew. But be careful what you wish for—sometimes there's nothing more deadly than the truth…This 10th Anniversary edition comes with a gallery feature that allows you to view event illustrations, scenes, and listen to voiced dialogue!
Danganronpa 2: Goodbye Despair Anniversary Edition – 70% Off
Jabberwock Island – once a popular tourist destination, this now uninhabited island remains oddly pristine. You and your classmates at the elite Hope's Peak Academy have been brought to this island by your super-cute teacher for a "lovey-dovey, heart-throbbing school trip." Everyone seems to be having fun in the sun…until Monokuma returns to restart his murderous game! Trapped on this island of mutual killing, your only hope of escape rests in solving the island's mysteries. But be warned—sometimes the truth can be its own despair…This 10th Anniversary edition comes with a gallery feature that allows you to view event illustrations, scenes, and listen to voiced dialogue!
Danganronpa V3: Killing Harmony Anniversary Edition – 70% Off
Welcome to a new world of Danganronpa, and prepare yourself for the biggest, most exhilarating episode yet. Set in a "psycho-cool" environment, a new cast of 16 characters find themselves kidnapped and imprisoned in a school. Inside, some will kill, some will die, and some will be punished. Reimagine what you thought high-stakes, fast-paced investigation was as you investigate twisted murder cases and condemn your new friends to death. This 10th Anniversary edition comes with a gallery feature that allows you to view event illustrations, scenes, and listen to voiced dialogue!
Danganronpa S: Ultimate Summer Camp – 70% Off
With an all-star dream lineup of characters from each Danganronpa game, gather Hope Fragments at a tropical resort. Explore Jabberwock Island and develop your Dangan characters. Gather money through battle and upgrade your equipment, then defeat bosses and move on to the next island!
Fitness Circuit – 30% Off
Enjoy working out with your own virtual trainer. Fitness Circuit uses Super Circuit Training, a workout method that alternates aerobic and strength-building exercises to efficiently burn calories, increase endurance, and improve muscle strength in a short period of time.*Exercise effects and results will vary per individual.
AI: THE SOMNIUM FILES – 80% Off
The mind never lies… In a near-future Tokyo, detective Kaname Date is on the case of a mysterious serial killer. Date must investigate crime scenes as well as dreams on the hunt for clues. From the mind of Kotaro Uchikoshi (Zero Escape series director), with character design by Yusuke Kozaki (NO MORE HEROES, Fire Emblem series), a thrilling neo-noir detective adventure is about to unfold.
AI: THE SOMNIUM FILES – nirvanA Initiative – 50% Off
DLC Kimono Set – Up to 50% Off*
DLC Monochrome Set – Up to 50% Off*
DLC B-Movie Horror Set – Up to 50% Off*
DLC Bundle – 50% Off
*See Nintendo eShop in your region for details
Six years ago, the right half of a corpse was discovered. The left half was never found…until six years later, completely fresh with no signs of decay. Now, Special Agents Mizuki and Ryuki, along with their AI partners Aiba and Tama, are tasked to solve the bizarre Half Body serial killings while unveiling the mysterious plot known only as the Nirvana Initiative.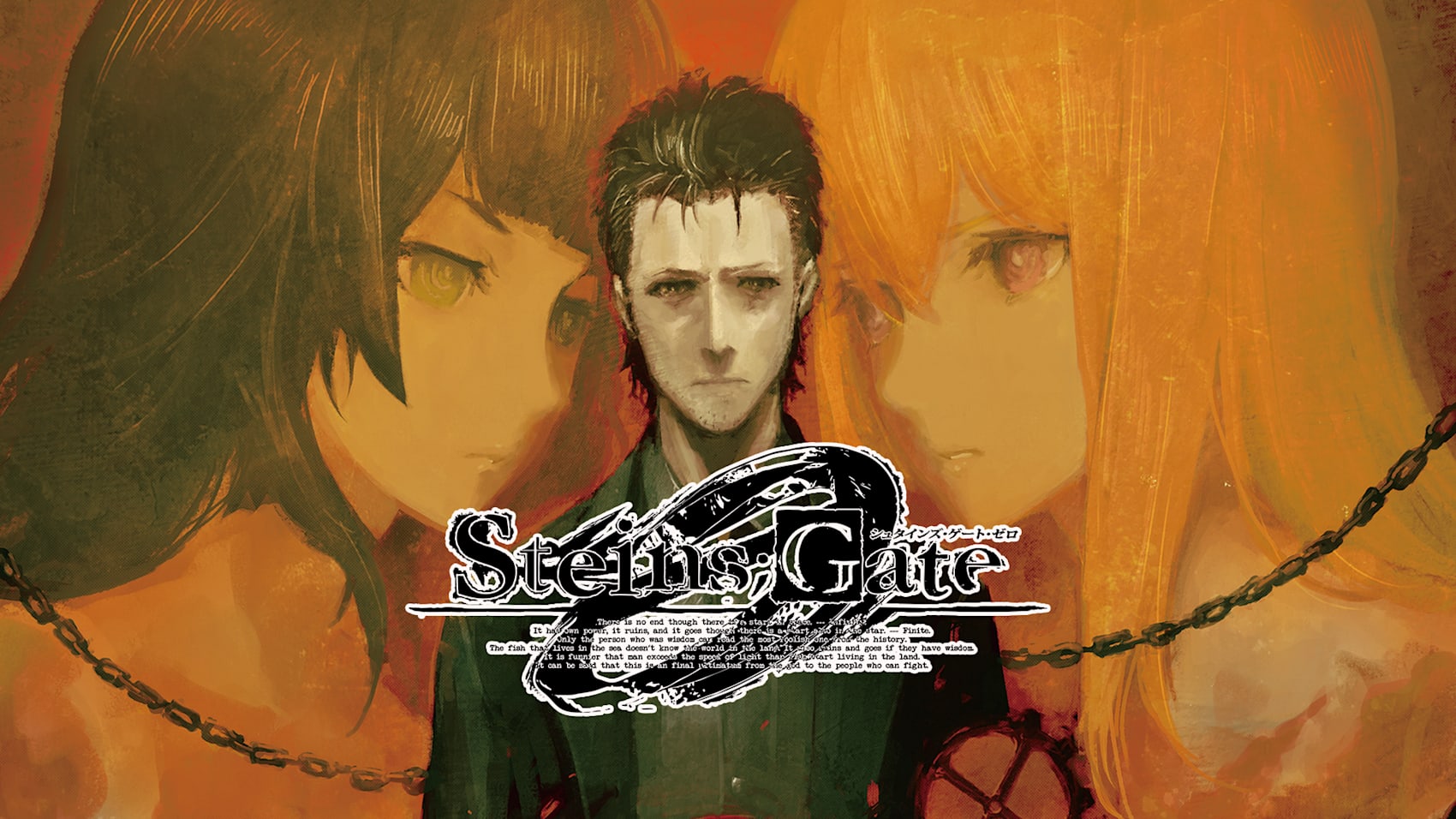 STEINS;GATE 0 – 80% Off
A new story in the critically-acclaimed STEINS;GATE series. From the depths of despair–explore a whole new world line. Your favorite characters return alongside a brand-new cast! STEINS;GATE 0 continues the time travelling theme – but adds artificial intelligence as its central hook. Help a group of young students bend time to their will and prevent the onset of World War 3.
STEINS;GATE: My Darling's Embrace – 60% Off
A spin-off of the beloved Science Adventure series finally got localized for the West! Fall in love with the lab members all over again in this sweet and slapstick romantic comedy!
STEINS;GATE ELITE – 80% Off
Ready to Play the Anime? STEINS;GATE ELITE is fully remastered with animated scenes from the anime, creating a brand new, immersive experience.
Shiren The Wanderer: The Tower of Fortune and the Dice of Fate – 60% Off
Legend has it that Reeva, god of Destiny, holds sway over the past, present, and future. Said to dwell in the mysterious Tower of Fortune, Reeva decides the fates of all mankind with a trio of magic dice. In the latest installment of the storied franchise, no two adventures are the same as you explore mystery dungeons that change each time you enter. Learn strategies and skills to overcome what comes your way–you never know what's next.
CHAOS;HEAD NOAH – Up to 50% Off*
*See Nintendo eShop in your region for details
Takumi Nishijo is a second-year high school student on the verge of becoming a shut-in.
"I have no interest in 3D." He lives surrounded by his beautiful girl figures in his room.
He lives in Shibuya, where there has been a series of bizarre serial murders known as "New Generation Madness" (aka NewGen). The culprit has yet to be caught and has been causing unrest on the internet and television. One day, a gruesome image that seemed to predict the next NewGen killing was sent by a mysterious figure called "Shogun." The next day, on his way home from school, Takumi encounters a horrific crime scene, exactly as predicted.
Before the corpse is a blood-soaked girl – Rimi Sakihata.
CHAOS;CHILD – 50% Off
October 2015, 6 years after the disaster known as the "Shibuya Earthquake."
A series of strange incidents occur in the recovering Shibuya; A person who dies a mysterious death during a live internet broadcast; A person who dies while singing during a street performance; A body hanging and spinning from the ceiling of a love hotel. People started to realize. The date is the same as the incident that occurred in Shibuya 6 years ago. -Yes, this is the return of the New Generation Madness. But – there is one thing. Just one thing is different. A mysterious sticker left at the crime scene. No one knows yet that the mysterious sticker, which looks like a creepy sumo wrestler, will be the key to solving the NewGen case. A committee of 300 working in the dark. Awakening delusion manifestors. Their "fetal movement" will unleash the door of delusion once again…
CHAOS;HEAD NOAH / CHAOS;CHILD DOUBLE PACK – 50% Off
CHAOS;HEAD NOAH is the first HD remaster in the CHAOS;HEAD series and has powered up even more since the first version. Everything has been remastered in 1080p and play has been improved thanks to the MAGES Engine. Also includes all OP movies in HD remaster, including the new songs made for the port. Enjoy the fantasy, the madness, all the clearer.
KATANA KAMI: A Way of the Samurai Story – 60% Off
Wanderer Set – 50% Off
Five Famous Swords Set – 50% Off
Play as a ronin during Japan's Meiji Restoration in the volatile Rokkotsu Pass. The swordsmith Dojima falls into debt and his beautiful daughter is taken as collateral. Help repay the debt by crafting swords by day and exploring the mysterious, twisting dungeons of the Ipponmatsu Cave for valuable materials at night.
Made in Abyss: Binary Star Falling into Darkness – 30% Off
Become a Cave Raider and explore the world of the Abyss! Two game modes to satisfy your delving desires: HELLO ABYSS Mode- Follow the anime's story! DEEP IN ABYSS Mode- Enjoy an original story!
PixelJunk™ Monsters 2 – 85% Off
PixelJunk™ Monsters 2 Deluxe Edition – 85% Off
PixelJunk™ Monsters 2 Danganronpa Pack – 85% Off
PixelJunk™ Monsters 2 Encore Pack – 85% Off
PixelJunk™ Monsters 2 Tiki Bundle – Up to 85% Off
In the acclaimed tower defense series' first-ever official sequel, play as Tikiman and build towers to defend your Tiki Hut from the monster hordes. Get ready to defend your Chibis again in this fun and addictive game for the whole family.

RESEARCH and DESTROY – 55% Off
RESEARCH and DESTROY Costume Bundle – 55% Off
RESEARCH and DESTROY – Zero Escape: Virtue's Last Reward Costume Pack – 55% Off
RESEARCH and DESTROY – AI: The Somnium Files Costume Pack- 55% Off
RESEARCH and DESTROY – Danganronpa 2 Costume Pack- 55% Off
RESEARCH and DESTROY – STEINS;GATE Costume Pack- 55% Off
Take control of three brilliant scientists as you RESEARCH and develop strange new weapons and gadgets to DESTROY the Supernatural hordes that have all but crushed humanity!
Re:ZERO -Starting Life in Another World- The Prophecy of the Throne – 80% Off
Enjoy a new Re:ZERO storyline, fully supervised by the series author Tappei Nagatsuki!
Featuring brand new characters designed by the original artist Shinichirou Otsuka as well as your favorites from the series.
ROBOTICS;NOTES ELITE – 60% Off
Join the Robot Club and help save the world in ROBOTICS;NOTES ELITE! Play as Kaito Yashio, one of the last two members of Central Tanegashima High's Robot Research Club. He kicks back and relaxes as his counterpart, the reckless club leader Akiho Senomiya, strives to complete their giant robot in order to keep the club from being disbanded. But Kaito's days of relaxation end with the discovery of the mysterious Kimijima Report. It contains instructions involving locations all across the island—and warns of a conspiracy targeting the entire world.
ROBOTICS;NOTES DaSH – 60% Off
Return to Tanegashima and continue the Science Adventure series in ROBOTICS;NOTES DaSH! The island of Tanegashima is preparing for the Summer Festival. Through Nae Tennouji, an acquaintance from JAXA, Kaito Yashio is introduced to Itaru Hashida from the STEINS;GATE series. Itaru claims to be taking a tour of the island, but as time goes on he starts acting rather strangely… Meanwhile, unsettling incidents begin to occur all around them; harbingers of an event that will again plunge the world into chaos.
YU-NO: A girl who chants love at the bound of this world. – 70% Off
Your Love Awaits Beyond This World. Can you find the hidden world waiting beyond Sakaimachi? Fall in love with every character to reach the true ending to this 40+ hour visual novel.
Lastly, check out Final Weapon's coverage of Spike Chunsoft titles below: