Final Fantasy VII Rebirth has been rated in South Korea. The title was submitted by Bandai Namco Entertainment Korea, who publishes Square Enix titles in South Korea.
This rating cites interesting reasons for the rating decision, which could hint at some iconic characters.
Final Fantasy VII Rebirth Rated for Ages 15+ in South Korea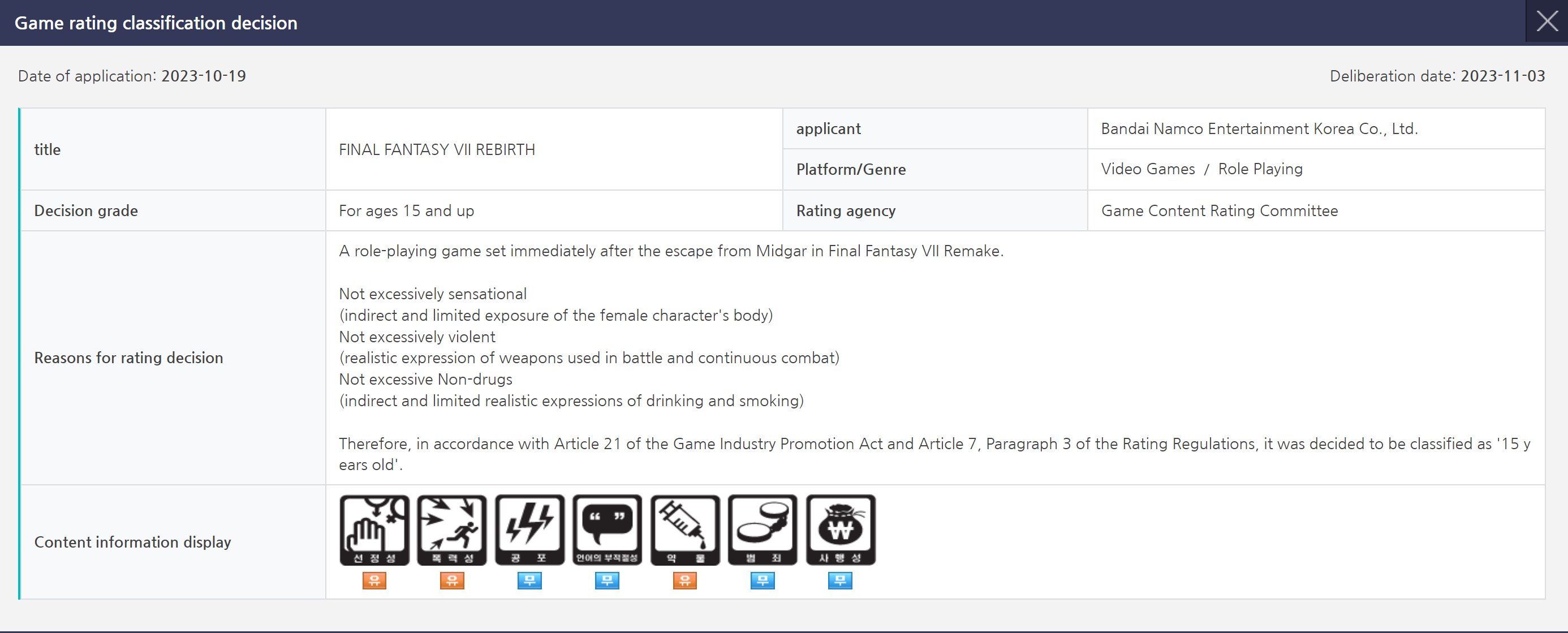 Spotted by @xenosaga7, The rating cites uses of "drinking and smoking," which could be a nod to Cid Highwind, who first appeared in Final Fantasy VII during the Tiny Bronco escape.
Rebirth, which is set to release on February 29, is the sequel to 2020's Final Fantasy VII Remake. It is the second entry in the Remake Project, a collection of three games recreating and reimagining the story and world of Final Fantasy VII. Almost four years later, it will take players outside of Midgar for the very first time. Iconic locations such as Cosmo Canyon and Junon will be fully explorable as you hunt down the malicious Sephiroth.
Final Fantasy VII Rebirth Releases on February 29, 2024
The first game, Final Fantasy VII Remake, was initially announced at E3 2015 at the Sony Interactive Entertainment's PlayStation show. Final Fantasy VII Remake then launched worldwide exclusively for PlayStation 4 on April 10, 2020. Final Fantasy VII Remake Intergrade, an expanded and enhanced version of the PS4 title, was announced for PlayStation 5 in the following year.
Then, news of the second title was revealed at the Final Fantasy VII 25th Anniversary Stream in June 2022. News went silent until this Summer when a new trailer showcasing the world and gameplay was released at Summer Game Fest. A tremendous amount of information has been confirmed, including confirmation of non-playable Vincent & Cid, a "new episode with Zack," the file size of the game, and more.
Final Fantasy VII Rebirth is set to launch exclusively for PlayStation 5 on February 29, 2024. The title will be exclusive to the platform until May 29, 2024. A Standard Edition, Deluxe Edition, and Collector's Edition are available to pre-order now.