Anyone who follows gaming news would note the strange things surrounding Ubisoft over the past few years. Delay after delay for countless games, strange business decisions, and overall lack of awareness are the three most prominent problems that can be seen right now. But why is that? What happened at Ubisoft over the past few years to stop their output of developed titles to a slow crawl? It was just announced today that Avatar: Frontiers of Pandora has been delayed to 2023-2024, which is just an incredibly strange, yet predictable delay. In addition, a "small premium game" that was unannounced was also delayed into next year. For the sake of relevancy, we will dive into issues plaguing just the past two years for Ubisoft.
Delays, Delays, and More Delays
Most, if not all, of the past two years of Ubisoft titles, have suffered at least one delay. Assassin's Creed Valhalla's first expansion was delayed back in early 2021, in addition to Far Cry 6, Riders Republic, Tom Clancy's Rainbow Six Extraction, Roller Champions, and Skull and Bones.
Prince of Persia: The Sands of Time Remake was announced back in September 2020, and has suffered multiple delays since the reveal trailer. Just taking a look at the game's Twitter account is baffling, considering the last 5 posts have each been development snippets of text about delays or reassuring the game is going well.
Another great example of this is Skull and Bones, a game that was covered in mystery for years leading up to its recent reveal this year. The game was consistently delayed each quarterly earnings report, with no specific reason given.
Ubisoft continues to cite the reason for most delays as quality, but how long will this keep up? At some point, I think the management at Ubisoft has got to realize that maybe they are revealing their games too early. While this is part of the problem, I do not think it is the full picture, however. Something is clearly going on at the troubled company, as you don't just delay an unannounced game and cancel multiple ones alongside the delay of Avatar: Frontiers of Pandora. It feels to me that the direction at Ubisoft is lacking, and is leading to all of these problems.
Direction
The direction in both games and management are both seemingly a problem. One of the biggest problems I think Ubisoft is having is simply scale. Take a look at the past three Assassin's Creed games. For each game, the marketing has leaned toward it being the "biggest game yet" in terms of map size and content. Valhalla takes around 60 hours to beat and get through its three continent-like areas, which in reality there was really no need for at all.
I think most people would agree that a toned-down, more focused Assassin's Creed entry that only lasted maybe 30-35 hours, closer to that of Odyssey, would be ideal. The thinking that quantity, in this case, game size, offers a better product is flawed, as the game feels very dragged, i.e. Valhalla. The ambition to want to make massive experiences for players is a great thing, but Ubisoft I feel is too dead set on this, making a lot of their games feel quite bloated with content.
Ubisoft's formula for these games is so widely mocked that people continue to compare all open-world games to Ubisoft games. "Oh this is just like a Ubisoft game" is a common remark that came up for plenty of games over the past few years. They really do not seem to mind as they keep outputting games with the same formula year after year, which just continues to be disappointing.
As aforementioned, Ubisoft focuses too much on the scale of worlds. However, there does not seem to be a real direction within management either. We saw the company earlier this year introduce NFTs into Ghost Recon Breakpoint, which turned out to be a huge flop. No one bought into the "Ubisoft Quartz" platform that consisted of blockchain-powered NFTs, and as a result, it was quickly swept under the rug.
Just recently it was shown on Steam that Ubisoft would be pulling Assassin's Creed Liberation HD from the store. Not only that, the title would be "inaccessible starting on September 1st". The topic of digital games is for another time, but it still shows another ridiculous decision from the company. Pulling a game from storefronts is one thing, but removing the ability to play a game you paid for? I just do not get it.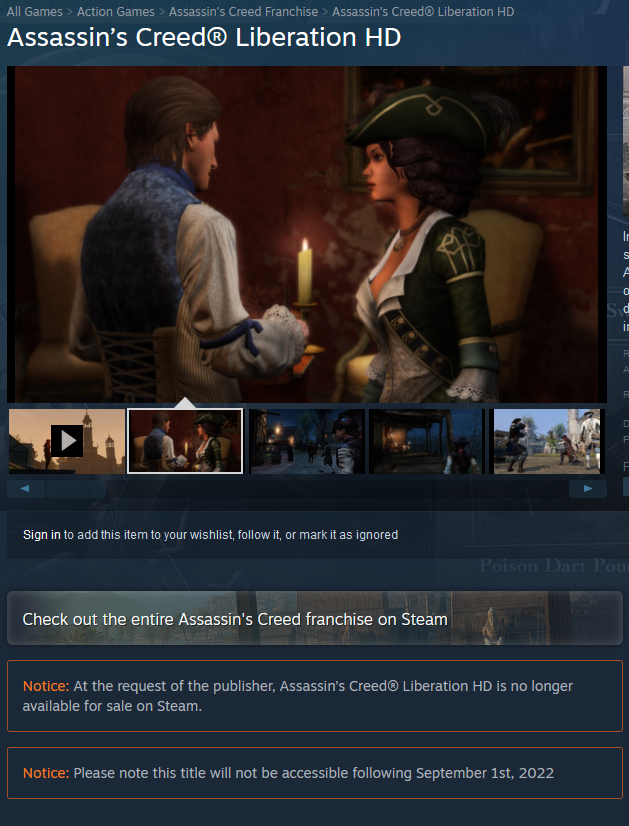 What Should Ubisoft Do?
At the end of the day, these are all problems that Ubisoft needs to take a serious look at in one way or another. While delaying games for quality is necessary, the extensive delays that we see with their products are just not normal. Especially considering they are constantly canceling announced titles alongside these delays, as we saw today.
The company has to stop announcing games so early. Clearly, there's more going on behind the scenes, but this still will affect the countless delays. As for the cancellations that continue to happen, that is an internal issue that I believe all rests on upper management. Ubisoft has a lot of IPs that people around the world love. The idea that all games they put out need to be massive open-world titles or free-to-play is just not right. It is okay to have a smaller scaled, more focused title. Linear titles are loved today more than ever, as we have seen with recent AAA releases in the past 2 years.
Without a change in direction, I just do not feel that things are going to get better. The only way to move forward for the better is to give freedom to the developers to work within their limits, not the "trends" upper management seems to think are these eternal chains of success.