Famitsu announced its June 15 issue will feature a cover story for the upcoming release of Street Fighter 6. The new issue launches on Thursday, June 1, just one day before the global launch of Street Fighter 6. Moreover, the June 1 issue celebrate 1800 volumes of Famitsu.
The June 15 issue of Famitsu includes an extensive feature that highlights Street Fighter 6 and its various modes. These modes include World Tour, Fighting Ground, and Battle Hub. Additionally, the new Famitsu issue includes a retrospective and timeline for Capcom's 40-year history. Readers may purchase the new issue on Amazon Japan, and additional fees apply for worldwide shipping.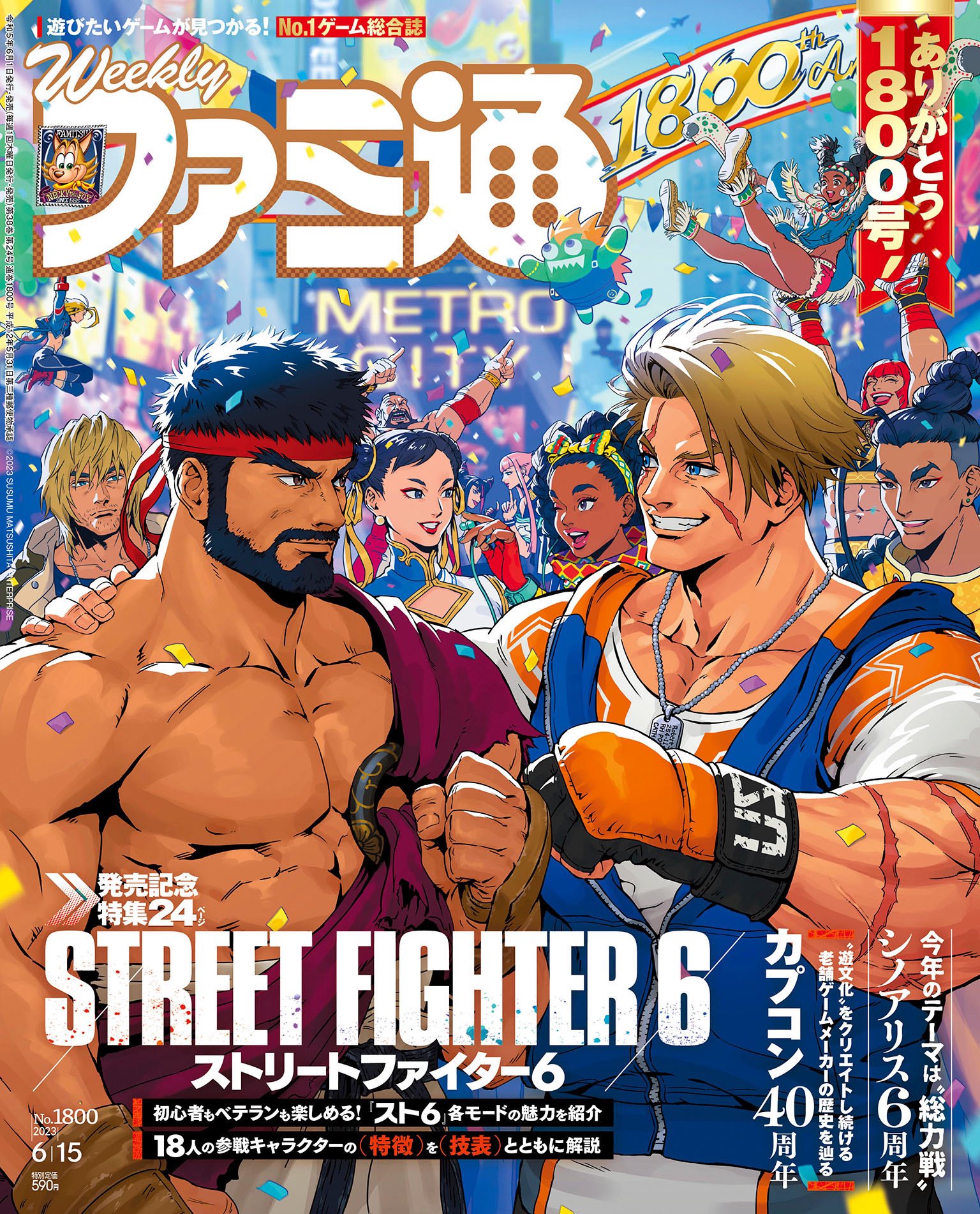 Although the Street Fighter 6 open beta is over, players may still try out the demo before launch. The demo allows players to create their own World Tour character and enjoy an early portion of the mode. Save data from the demo does not transfer to the full game. However, a player's newly created character may be transferred from the demo to Street Fighter 6.
Here's an overview of Street Fighter 6 via Steam:
About Street Fighter 6
Here comes Capcom's newest challenger! Street Fighter 6 launches worldwide on June 2nd, 2023 and represents the next evolution of the series.
Powered by Capcom's proprietary RE ENGINE, the Street Fighter 6 experience spans across three distinct game modes featuring World Tour, Fighting Ground and Battle Hub.
Diverse Roster of 18 Fighters – Play legendary masters and new fan favorites like Ryu, Chun-Li, Luke, Jamie, Kimberly and more in this latest edition with each character featuring striking new redesigns and exhilarating cinematic specials.
Dominate the Fighting Ground – Street Fighter 6 offers a highly evolved combat system with three control types – Classic, Modern and Dynamic – allowing you to quickly play to your skill level. The new Real Time Commentary Feature adds all the hype of a competitive match as well as easy-to-understand explanations about your gameplay. The Drive Gauge is a new system to manage your resources. Use it wisely in order to claim victory.
Explore the Streets in World Tour – Discover the meaning of strength in World Tour, an immersive, single-player story mode. Take your avatar and explore Metro City and beyond. Meet Masters who will take you under their wing and teach you their style and techniques.
Seek Rivals in the Battle Hub – The Battle Hub represents a core mode of Street Fighter 6 where players can gather and communicate, and become stronger together. Use the avatar you create in World Tour to check out cabinets on the Battle Hub floor and play against other players, or head over to the Game Center to enjoy some of Capcom's classic arcade games.
Your path to becoming a World Warrior starts here.
Lastly, Street Fighter 6 releases June 2 for PlayStation 4, PlayStation 5, Xbox Series X|S, and PC via Steam.