UPDATE – Microsoft released a statement clarifying the situation surrounding the Xbox 360 Marketplace. The company claims the closure message was posted in error and the marketplace will not close in May 2023.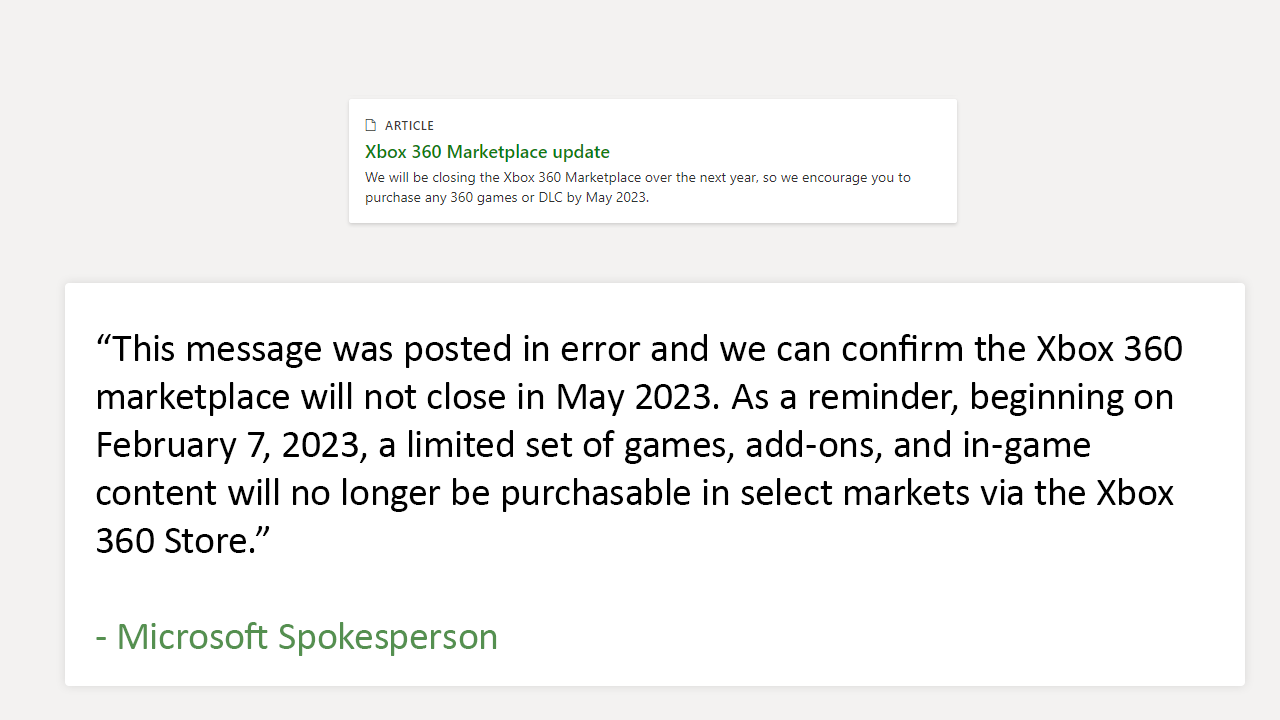 Microsoft has confirmed that it will be shutting down the Xbox 360 Marketplace over the next year, and players must purchase Xbox 360 games and DLC soon.
An Xbox 360 Marketplace update listing is now present in the official Xbox Support search page, revealing that Microsoft is closing down the storefront. Additionally, Microsoft encourages players to purchase any Xbox 360 games and DLC before May 2023. The notice implies that the ability to purchase content from Xbox 360 Marketplace will cease in roughly three month's time. All Xbox 360 games that are backwards compatible on Xbox One and Xbox Series X|S should still be available on the consoles' respective storefronts.(Thanks, Wario64).
Previously, Microsoft published a notice about 46 Xbox 360 games being delisted from the storefront. These games include Lost Odyssey, Blue Dragon, and Far Cry 2. When a user clicks the new Xbox 360 Marketplace update article in the support search page, the full list of affected games may be read after selected a country.
Games that have been delisted and are unavailable for purchase will be prompted with an "Error 8007C223" message. Microsoft encourages Xbox 360 players to find a physical copy of the game if the digital version is unavailable. Additionally, the company reminds players that games may be redownloaded by visiting Download History in Account menu under Settings.
Here's the full list of affected games in the U.S. Xbox 360 Marketplace thus far:
Aegis Wing
Assassin's Creed Brotherhood
Assassin's Creed III
Assassin's Creed IV
Assassin's Creed Liberation HD
Blood of the Werewolf
Blue Dragon
Breakdown
Call of Duty: Advanced Warfare
Call of Duty: Ghosts
Castle Crashers
Cloning Clyde
Counter-Strike: GO
Dark Souls
Darksiders II
DAYTONA USA
Defense Grid
Eets: Chowdown
Far Cry 2
Final Fight: Double Impact
Iron Brigade
Jeremy McGrath's Offroad
Jet Set Radio
Left 4 Dead
Left 4 Dead 2
LIMBO
Lost Odyssey
Mass Effect 2
MONOPOLY DEAL
Mutant Blobs Attack
N+
Outpost Kaloki X
Peggle 2
Phantom Breaker: Battle Grounds
Prince of Persia
R.U.S.E.
Sega Vintage Collection: Alex Kidd & Co.
Skate 2
South Park: The Stick of Truth
Spelunky
Splinter Cell Conviction
Star Wars Battlefront
Star Wars KOTOR 2
The Orange Box
The Raven Episode 1
The Witcher 2