Square Enix Collective and FuturLab announced PowerWash Simulator update 1.2 launches on April 18. Titled "The Muckingham Files", PowerWash Simulator update 1.2 brings new content into the game for free. Additionally, a PowerWash Simulator physical release is also on the way.
A physical release for PowerWash Simulator is scheduled for a June 13 launch with pre-orders going live now. The PowerWash Simulator physical edition will be available for Nintendo Switch, PlayStation 4, PlayStation 5, Xbox One, and Xbox Series X|S. However, the Nintendo Switch version does not include the game cart. Instead, the Nintendo Switch release features a download code in a physical game case. Alongside news of a physical release, a roadmap for future PowerWash Simulator content was revealed, which includes update 1.2.
All the latest details are available below via FuturLab:
PowerWash Simulator Physical Release – Coming June 13, 2023
Collectors and console players rejoice – PowerWash Simulator is now available to pre-order in physical format. Everything you need to start a successful power washing business in one small, convenient casing. Let it take pride of place on your shelf or give the gift of zen; sharpen up you and your loved ones' power washing skills before summer garden party season!
This edition will be available on Xbox Series X|S, Xbox One, PlayStation 4, PlayStation 5, and Nintendo Switch (via download code).
The Muckingham Files (Update 1.2) – Coming April 18, 2023
Players may remember the mysterious Mauka Aitu Desert from jobs in the base game, where they were tasked with cleaning an ancient statue, an imposing monument and an old steam train. Well, it's not just full of aged relics but also home to some more advanced technology – namely a Solar Water Plant and a huge Satellite Dish. It's down to you to dust off all that sand, for a satisfyingly sparkly finish.
A short reprieve from the dry, dusty desert will transport players back to the lush green of Muckingham's recreation ground, where a filthy food truck is spoiling the view. Once you've finished, it'll be the shimmering centrepiece of the park.
For those looking to brush up on local lore, the pre-existing bonus jobs have had new stories added that supplement (whilst not continuing) the main story – bringing them in line with this update and any future updates in the Muckingham universe. Replay them for more tales and trivia from your favorite filthy town.
Roadmap
Hop in the van, we're going on a road trip! Throughout 2023, we'll be taking you to places near and far in a range of Special Packs and updates that traverse Muckingham and beyond. Check out the roadmap below for some hints of what's ahead, which will be updated with each announcement.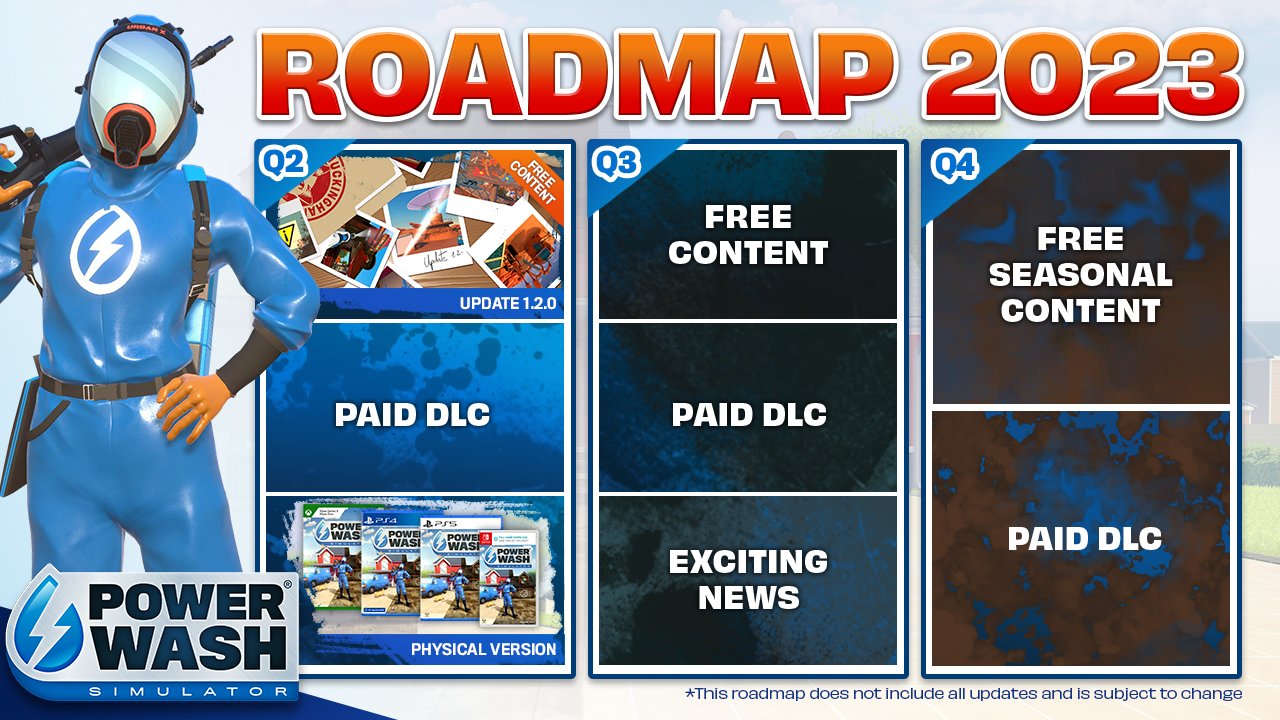 Lastly, PowerWash Simulator is available now for Nintendo Switch, PlayStation 4, PlayStation 5, Xbox One, Xbox Series X|S, and PC via Steam and Epic Games Store.